ECS Check, a free to access digital solution from the Electrotechnical Certification Scheme (ECS), is an online system that allows main contractors and clients to verify the ECS cards of electrical personnel working on projects. Under a pilot scheme, ECS Check is listed as an accepted Licence to Practise (LtP) system in Northern Ireland government procurement guidance.

Clients and main contractors will need to set up projects through the ECS Check system to be compliant with Construction Procurement Toolkit (Annex C: Licence to Practise Initiative for Electrical Workers). Below is the process for doing this.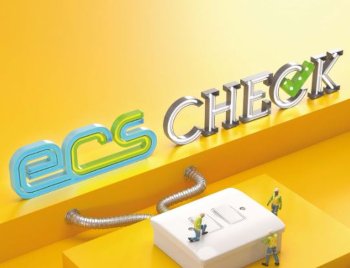 How it works
There are almost 4000 contractors and clients using the ECS Employer Portal to manage their own electrotechnical workforce. ECS Check is an extension of this system which allows contractors to identify their operatives working on specific projects.

Clients and public bodies set up contracts through the system and identify who the electrical contractor will be. The electrical contractor identifies those operatives who will be on this project, and any subcontractors they may have. Subcontractors in turn identify their workforce.

For clients and contractors to get set up on the system, the following should be followed:
Step 1 - Complete and return the application form confirming agreement to the terms and conditions for use of the system. The main user will be added to the system and have access as part of this process
Step 2 - For additional users under an existing company account, you will need register your details to gain access to the ECS Check System. This can also be managed by the main user in the system

Why should clients and contractors use ECS Check?
ECS Check service provides a system through which clients, project managers and contractors can obtain essential visibility and greater transparency of the workforce. This approach seeks to ensure the electrotechnical workforce operating on site holds the appropriate balance of skills, experience and resource necessary to deliver the electrotechnical works in a competent manner.

In Northern Ireland, the requirements for a Qualified Electrician under the LtP are an ECS Registered Electrician (gold card) and the latest edition of BS7671:2018 IET Wiring Regulations (18th Edition).

Not only does the system inform client or contractors who will be on site, but also allows monitoring to be undertaken quickly and simply. This means no requirement to rely on emailed photos of cards or certificates and this can all be accessed through one online portal and on site through the ECS Check app. This complements the ECS virtual card available to all card holders and can again be accessed free of charge via a smartphone app.

More and more clients and contractors are recognising the benefits of ensuring they have qualified workers on their jobs and raising standards to achieve competence. ECS uses a specially designed computer program to verify qualifications directly with awarding bodies like City and Guilds and EAL, so companies can have confidence in the process as well as helping to digitise this onboarding process through use of apps for electronic verification.

A number of clients are registered on the ECS Check Licence to Practise system such as Northern Ireland Housing Executive, Translink, NI Water, Belfast and Western Health and Social Care Trust. Remember to ask clients and main contractors about using the ECS Check system on tender and contract award, or switching over to this system during contracts, to save time, money and take advantage of enhanced technology capabilities on the ECS platforms.
How much does this cost?
ECS Check is free for employers and other contractors to sign up. They simply need to register ECS Check and allocate their ECS cardholders to projects.That means there's no need to pay additional LtP registration charges and contractors and operatives using ECS Check will avoid unnecessary duplication of costs by using other schemes. The only cost involved is the standard ECS card application fees.

Sign Up
If you are registered click the button below to gain access to your ECS Check dashboard.
Electrical Contractors will need to be registered for the ECS Online Services, including the Employer Portal, to use the ECS Check System. Follow the link above the download a simple application form. All contractors in Northern Ireland should register for the Employer Portal and ECS Check which will help expedite processes when clients set up new projects.

For more information please email: ecscheckni@ecscard.org.uk or call 01322 661622.